Mobility network summer school
Mobility Network Summer School:
Measuring what matters:
Cities and urban mobility in an era of climate emergency
June 20. 12:00 PM to June 21. 5:00 PM EDT
Location: KP202 room (Multifaith centre-Koffler House)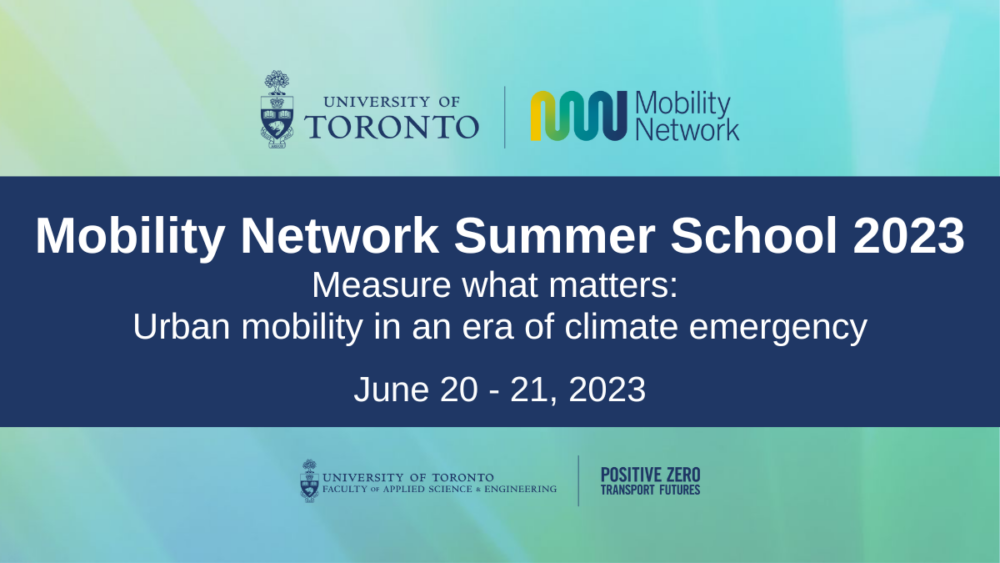 Applications are now closed
Mobility Network 2023 Summer School is fully subscribed, and applications are closed. We regret that capacity is limited.
The purpose of Mobility Network Summer School 2023 is to develop a roadmap for evaluating government investment in transportation infrastructure.
Working in teams, students will design a performance measurement framework to quantify the economic, climate, and societal impacts of transportation infrastructure investments and methods to quantify the measures they choose to include in their framework. Then, they will apply their measurement framework to a case study of a previous or planned transportation investment, for which funding may or may not be confirmed, to determine if the investment should proceed. Teams will draft policy briefs (200-300 words) that articulate in lay terms why their assigned project is a good or bad investment.
A set of short lectures will present methods to measure travel demand, economic impact, GHG emissions, and social impacts, among others.
A reading list of background materials will be provided in advance of summer school.
There is no cost to attend, but space is limited. Applicants must: 
be graduate students or postdoctoral fellows at a Canadian university;

commit to attend the summer school from 12:00 p.m. to 5:00 p.m. on June 20, 2023, and 9:00 a.m. to 5:00 p.m. on June 21, 2023;

submit an application;

if accepted, bring their own laptops.
Notifications confirming acceptance will be emailed to applicants on a rolling basis.
Mobility Network Summer School 2023 is co-sponsored by Positive Zero Transport Futures, Department of Civil & Mineral Engineering, University of Toronto.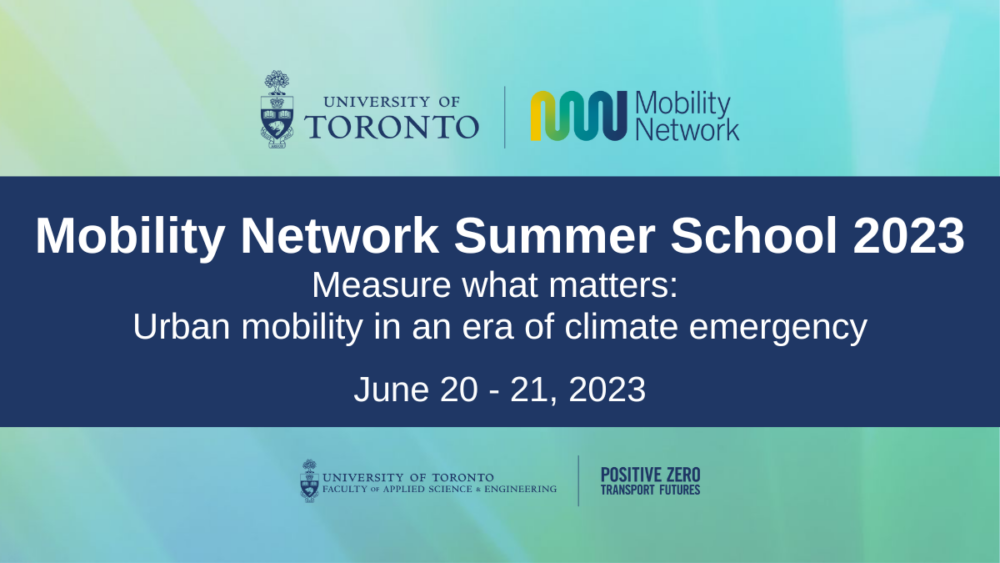 Mobility Network Summer School flyer
Past Mobility Network Summer School